I'm getting pretty close on finishing my Rhyme cosplay! Here's what I have so far.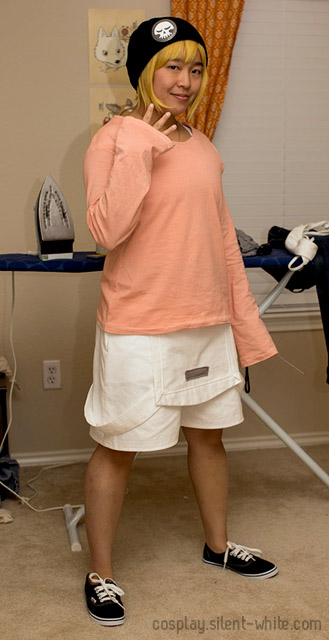 Since last time I've…
trimmed the bangs on the wig
dyed the shirt
made the hat
made the skull pin
I dyed the shirt twice so far, and I'm considering putting it into a dye bath again. When the shirt is wet, I feel like the color is perfect, but of course when it dries, it looks lighter. I'd like the color to be just a tad darker.
The first time I dyed it, I used 1/2 teaspoon tangerine and 1 teaspoon tan. The color was too peachy and then too much of it washed out, so it was too light. The second time, I used equal parts tangerine and tan (1/2 teaspoon each), which got it a bit darker and to the right color. I might repeat that last step one more time.