I'm mostly done with Phi's skirt! This is what I have so far: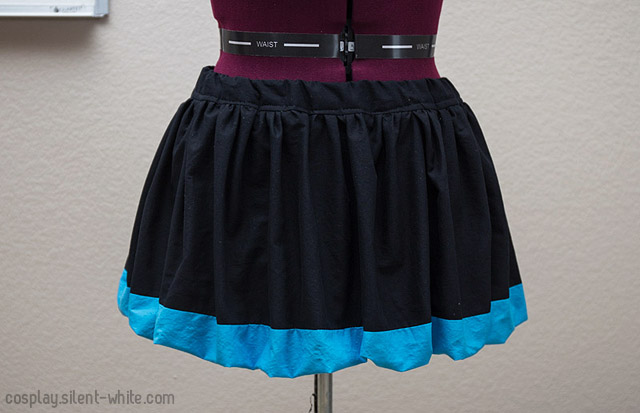 This is actually the second one I've made. The first one came out a bit too short and too poofy. It was easier for me to just start over on another one than to try to alter the first one.
I used Kona cotton in black and peacock blue, and I used this bubble skirt tutorial as my guide. I went with a bubble skirt because Phi's skirt seems to be gathered and a bit puffy which… is pretty much a bubble skirt!
The first thing I did was cut out the parts I needed: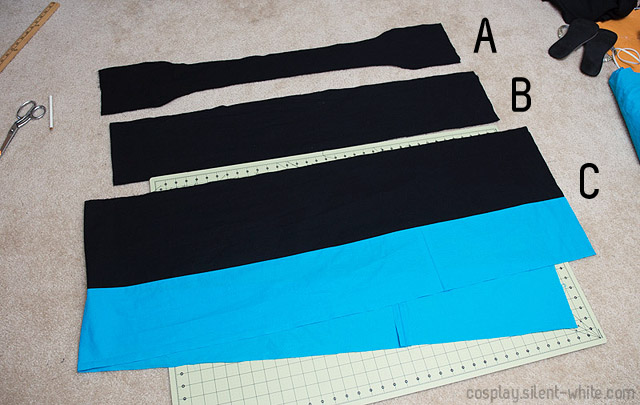 A. Waistband
Width = widest part of my hip (since I'm using elastic)
Length = 2 x waistband length (to fold over)
B. Lining
Width = waistband width
Length = Skirt length – waistband length – 4 inches
C. Outer skirt
Width = a little over double the waistband width
Length of black part = Skirt length – waistband length – 2 inches
Length of blue part = 6 inches = 2 inches (bottom of the skirt) + 4 inches (to fold over and attach to lining)
Note: I added seam allowance to all measurements above.
The waistband might look a little funny because the ends have extra length. I wanted to give extra length to the back of the skirt (because, you know, butts stick out a little), so I added the extra length to the waistband.