I'm mostly done with Phi's skirt! This is what I have so far: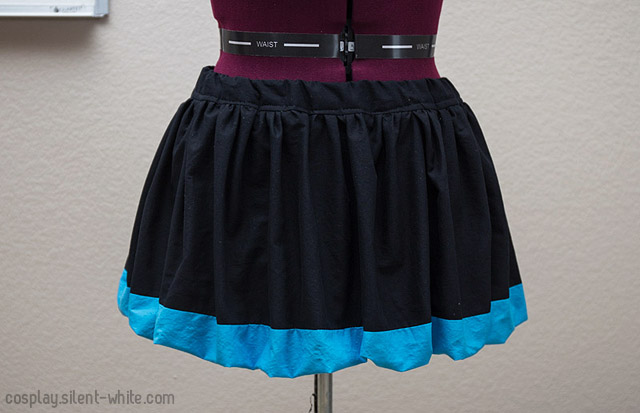 This is actually the second one I've made. The first one came out a bit too short and too poofy. It was easier for me to just start over on another one than to try to alter the first one.
I used Kona cotton in black and peacock blue, and I used this bubble skirt tutorial as my guide. I went with a bubble skirt because Phi's skirt seems to be gathered and a bit puffy which… is pretty much a bubble skirt!
The first thing I did was cut out the parts I needed: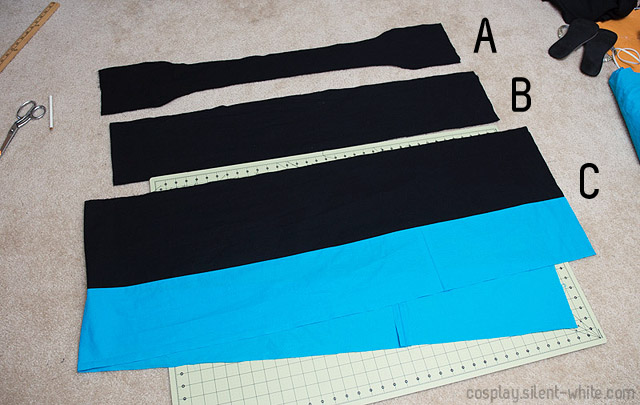 A. Waistband
Width = widest part of my hip (since I'm using elastic)
Length = 2 x waistband length (to fold over)
B. Lining
Width = waistband width
Length = Skirt length – waistband length – 4 inches
C. Outer skirt
Width = a little over double the waistband width
Length of black part = Skirt length – waistband length – 2 inches
Length of blue part = 6 inches = 2 inches (bottom of the skirt) + 4 inches (to fold over and attach to lining)
Note: I added seam allowance to all measurements above.
The waistband might look a little funny because the ends have extra length. I wanted to give extra length to the back of the skirt (because, you know, butts stick out a little), so I added the extra length to the waistband.

Next was the gathering part! The outer skirt needed to be gathered and sewed to the lining. I used a tip I found online somewhere about gathering evenly.
Instead of one long basting stitch, I split it into 8 basting stitches that were the same length. You can't really see it the photo, but I used a fabric marker to mark my outer skirt into eight sections. I did the same with the lining (except with pins), and I gathered each section to match with the lining.
Then I pinned the two together:

And here's what it looks like after it's sewn together: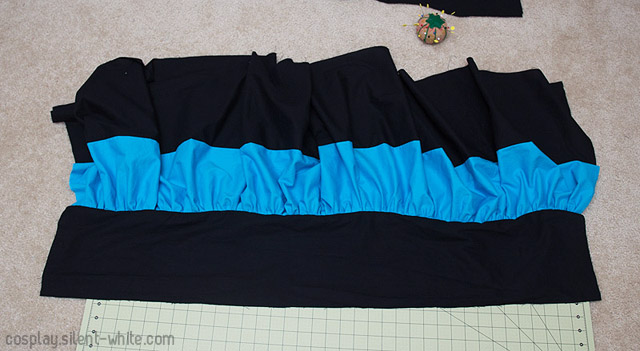 After that, it's folded in half and gathered to the waistband. I used the same technique where I split it into 8 basting stitches on the outer skirt. Then the lining, outer skirt, and waistband are sewed together!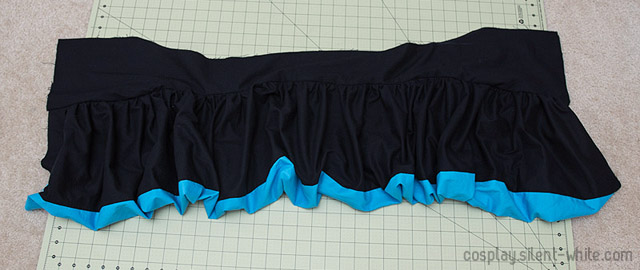 The last part is just sewing the ends together and closing the waistband with an elastic band inside. What's left on the skirt? The belt! I'm looking for a belt buckle first.
As for the rest of her outfit, I bought a couple tank tops from Old Navy for her top, and I've decided on a medium weight denim for her jacket. I just need to order the fabric and finish drafting the pattern for it!