To start on Neku's shirt, first I made the pattern. I traced it off of one of my smaller shirts (minus the sleeves) and widened the bottom a little. I cut it where I thought the separation between colors should be.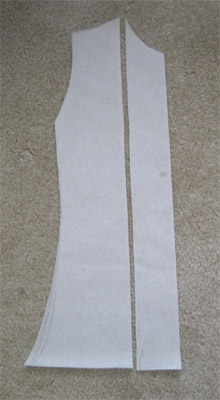 For the yellow parts, I sewed in Bias Tape. It makes it a lot easier to make them straight and even, since the Bias Tape already has folds which I can follow. This is just one side of the shirt: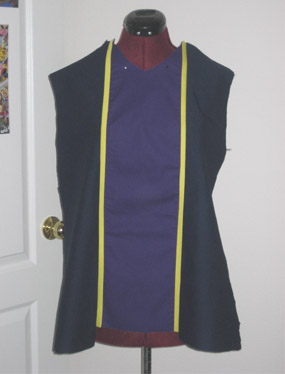 I might redo the middle part slightly because the purple looks a little wide. I think I'll wait until I put together the other side and see how they look together. I also used some left over yellow cotton fabric I had to make Neku's bracelet. It's double layered and was super simple to make: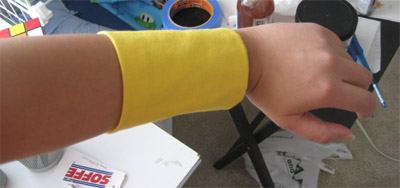 Kona cotton costs $5.99/yd. I bought 3 yards of navy fabric which comes out to $17.97, and then was $14.39 with 20% off. The purple fabric is 2 yards at $11.98.
So far, I've used one pack of bias tape which is $1.89. The total for Neku is now $47.16.