I have status updates on two different parts today! Let's start with Neku. In the past, I usually go the easy way out and use velcro instead of dealing with zippers. Well, it wouldn't be right if his shorts didn't have zippers. I studied how jeans do zippers, then sewed them onto the shorts, including the flaps behind the zippers. I'm happy with how they came out!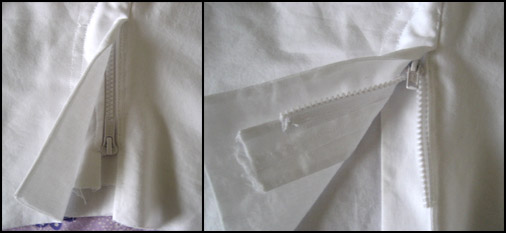 I'm making test buttons holes right now, so adding a button above the zipper and belt loops is next on my list.
I also finally started on Jack's costume, which will be Beat. I've realized that the chain on his pants are drawn in 2 different ways depending on which image you're looking at.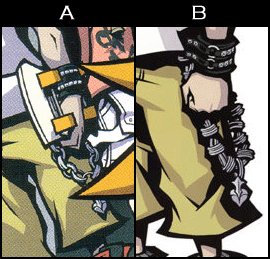 I decided to go with 'A' mainly because it's simpler and uses less materials. My first thought was to use keychain rings, and I'm actually liking the result.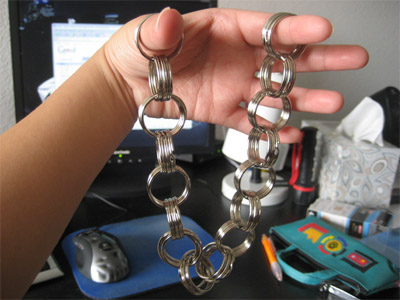 Each ring on the chain is actually 3 keychain rings. That used a whole pack of 48 rings, and I still need more!
The cost of the white Kona cotton is $5.99/yd. With 3 yards, that comes out to $17.97. With a 20% off coupon, it is $14.38. The zipper was $1.99 but was $1.59 with %20 off. The total for Neku so far is $15.97.
The pack of keychain rings was $2.99, which is the current total for Beat.