I've been working on Tashigi's sword lately! I showed a bit of it in my previous entry, but I'm going to start from the beginning and show what I've done so far.
As a reminder, this is the prop sword I started with:

The sheathe was black, had a texture on it, and also a cross body strap. The first thing I did was cut off the strap, and then I covered the sheathe with 3-4 layers of Gesso. When that dried, I sanded it smooth and spray painted it white.


Now I'm working on the decorative parts, starting with the top of the sheathe. I added a piece of Worbla to the top, which I layered with Gesso, and then painted gold.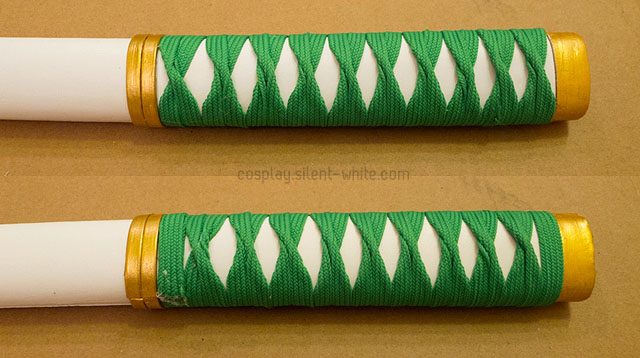 The green ribbon is synthetic silk for wrapping swords; surprisingly, I was able to find it on Amazon. I looked up several articles and Youtube videos on wrapping a sword handle, until I felt like I got the hang of it. The back isn't as clean, since I wasn't sure how to end it. I just hot glued the end of the ribbon together and onto the sheathe.
The gold part underneath the sword wrap is two pieces of craft foam, which again had Gesso and then gold paint.
I still have a lot more to do, like the gold rings that go down the sheathe. So far, I've cut out a bunch in craft foam and am waiting for the Gesso to dry.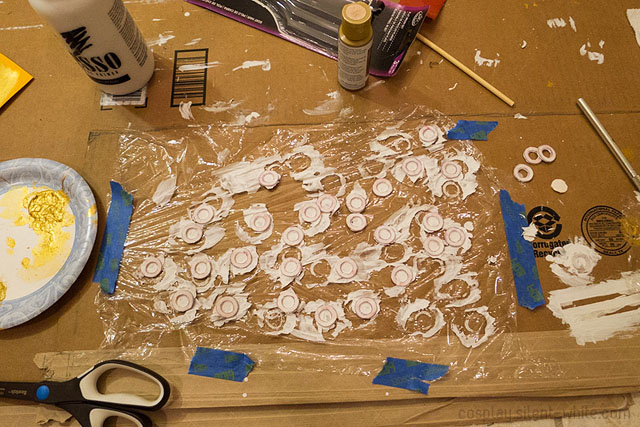 Next up is the sword itself. Here's a close up of what the handle looked like originally.

You can see that it has a texture and gaps to mimic a wrapped handle. I didn't want any of that, so I covered it with Crayola Model Magic. Then I covered it with Gesso and sanded it.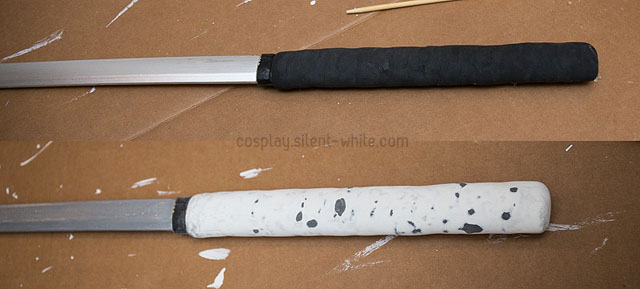 I also sanded the paint off of the blade and covered with Gesso as well, which I sanded smooth afterwards.

After all that, I spray painted the sword. The blade got a new coat of metallic paint, and the handle was spray painted white. (This is a bad photo. I'll have to take one later with better lighting.)

I still have a lot to do! Stay tuned for more progress later :)