Well, it's been more than a week since my last post. Unfortunately, I really don't have much new progress. I was hoping I'd be finished by now, but things have been busy!
I ordered a compression shirt from Underworks recently, so that I could bind my breasts. I have to say that I'm impressed by how flat it got my chest, and the fact that it's actually fairly comfortable to wear. It is hard to get on and take off on your own though.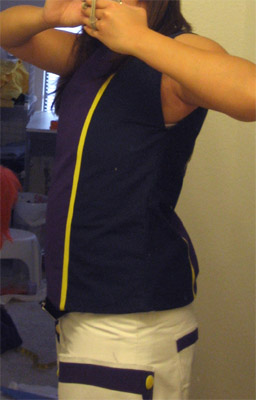 I measured around the fullest part of my boobs, and then again underneath my boobs. I averaged the 2 numbers to get my size for the shirt.
I've started on the collar, which I'm still trying to figure out how to attach. Hopefully, I'll have Neku's shirt fully done this weekend!