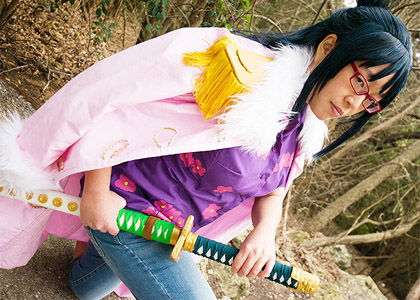 Tashigi (One Piece, TimeSkip)
Worn at: A-kon 2017, Ikkicon 2017
Variant: Punk Hazard arc
Grouped with: N/A
Status: Still in use
Related Posts: One Piece | Tashigi (timeskip)
Photos by:
Yinyue Photography
Materials
Like her pre-timeskip version, I used a cotton blend for her shirt and then painted on the flowers with fabric paint.
The jacket is made with twill and lined with broadcloth, both of which I custom-dyed using Cherry Red Rit dye. I used Butterick B6385 for the pattern with some of my own alterations. The collar and cuffs are faux fur, and the button loops are faux leather braids. The kanji on the back is drawn on with fabric markers.
The epaulettes on the jacket are pinned on, so that it's easy for me to remove if necessary. The base of them are made with craft foam, covered with Worbla, and then covered with silk fabric. I then glued on a couple layers of fringe on the edges.
The sword and glasses are the same as the pre-timeskip version, so check that page for more info! The wig is the Eowyn from Arda Wigs in their "raven" color.
Lastly, we have the gloves and shoes. I bought pink gloves, and then added the white cuff using cotton jersey. The shoes use ankle boots as a base, and the boot covers are made with a rayon blend and felt at the bottom. I later re-made them to use faux leather at the bottom instead for more strength.
Comments
I love Tashigi's pink Navy coat! I wasn't sure if I wanted to cosplay anything from One Piece, but this outfit convinced me to cosplay Tashigi. I ended up doing the pre-timeskip version first and then tackled this one afterwards. The nice thing was being able to re-use some things from the pre-timeskip version, like the shirt pattern, sword, and glasses.
While I do love how the cosplay turned out, I will probably wear her Alabasta version more. Unfortunately, I had issues with this Punk Hazard one. I didn't balance the weight of the wig (it's too back heavy), so it kept slipping. The boot covers ended up getting destroyed, and the coat didn't stay on my shoulders well. I wore it as an open coat when I was walking around the convention. If I were to use this more moving forward, I'd have to make some changes to make it easier to wear!