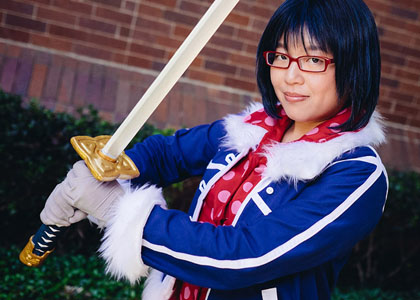 Tashigi (One Piece, Pre-TimeSkip)
Photos by:
BTSE Photography
Materials
The glasses are frames by Steve Madden, and they actually have prescription lenses in them. I figured I could use them both normally and for cosplay. The wig is the Katinka from Arda Wigs in their "raven" color (has black and blue fibers).
The jacket is made with twill and faux fur, and it's lined with broadcloth. The shirt is made with a cotton blend, and I used pink fabric paint to get the dots pattern on it. The gloves are made with 4-way stretch rayon.
I used a cheap prop sword as a base for Shigure (Tashigi's sword). I made a lot of alterations, like smoothing it out with Gesso, giving the whole thing a new coat of paint, and replacing the hilt. I added sword wrap to both the handle and the sheathe, and most of the pieces are made with craft foam and/or Worbla.
Comments
One Piece is one of my favorite Animes, and now I've cosplayed from it! Tashigi's Punk Hazard outfit was actually the one that caught my eye, but I decided to start with her Alabasta version.
The fun thing about cosplaying from a popular Anime is meeting all the other One Piece cosplayers, especially the few others who decided to cosplay as a Marine character too. I had many tell me that I'm the first Tashigi cosplayer they've seen! It makes me excited to try another Tashigi version.
My favorite part of this cosplay is the sword since I have barely done any prop work beforehand. While I didn't make the base sword, altering it and using Worbla were totally new to me. I really love how it turned out. I really like the jacket too! It was kind of a pain to wear on a hot summer day, but I still love it.