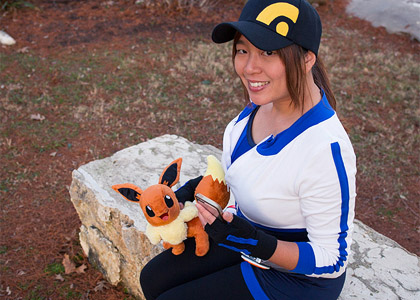 Pokemon Trainer (Pokemon Go)
Worn at: Halloween 2016, Ikkicon 2017
Variant: Female trainer, initial default outfit
Grouped with: N/A
Status: Still in use
Related Posts: Pokemon | Pokemon Go Trainer
Photos by: my husband
Materials
The jacket and romper are made with several types of knit and uses McCall's M7556. The jacket uses jersey knit – a cotton knit for the white part and a rayon knit for the blue trim. I also used a rayon knit to line the jacket. The romper uses French Terry knit for the middle blue part and Activewear spandex for the dark blue part.
The belt uses pleather as the base and is covered with knit fabrics. The buckle was made with craft foam and then covered in Worbla. It's finished with Gesso and acrylic paint.
The gloves were made with jersey knits and were altered from McCall's M7397. The hat was store bought, but I painted the logo with fabric paint. The Pokeball, tights, and Eevee plush were store bought too, and the shoes are Nike cross trainers.
Comments
After getting addicted to Pokemon Go, I thought it'd be fun to cosplay as my trainer! I chose to do it for Halloween since it's recognizable costume if I wore it to a party. I got a lot of nice feedback from friends, coworkers, and the local Mystic group in my city :) I also got runner-up in my work's Halloween costume contest!
The costume is very comfortable to wear, though it is on the warm side. It's many layers, and it makes it inconvenient to use the restroom too. I have to remove almost every part of the costume first. I love wearing it otherwise though!