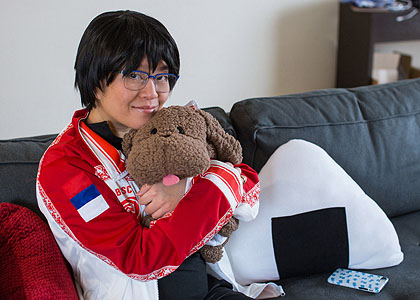 Yuri (Yuri on Ice)
Worn at: N/A
Variant: Casual
Grouped with: N/A
Status: Still in use
Related Posts: Yuri on Ice | Yuri
Materials
Most of this cosplay was bought instead of made. The wig is the Derek from Arda Wigs, and the ring is a cheap gold ring I found on Amazon. The glasses were also cheap frames that I bought (with non-prescription lenses) and then spray painted to blue.
Victor's jacket was bought from an eBay seller, and the phone case is from the Crunchyroll Shop.
The onigiri pillow is the only thing I made. I used stretch cotton and filled it with polyfill.
Comments
This is a casual cosplay just for fun! I don't really plan on wearing it to any conventions. I just thought it'd be fun to put together and get some photos at home :) Because of that, I decided to buy most of it instead of making it as usual.