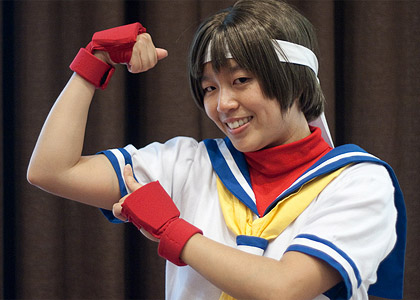 Sakura (Street Fighter)
Worn at: Halloween 2009; Ikkicon 2010; A-kon 2010, 2014; AnimeFest 2012
Variant: Street Fighter 4, main outfit
Grouped With: N/A
Status: Retired
Related Posts: Sakura
Photos by:
Cliff Nordman
, Ed Martinez,
Ian Ma
Materials
I had a lot of left over and unused fabric that I was actually able to use for this costume. I really only had to buy fabric for the white part of the shirt, which was cotton interlock.
The blue and yellow are Kona cotton, and the headband is twill. The white lines are done with bias tape. The gloves were made with craft foam and stretch jersey.
The shoes are Converse Chuck Taylor All Stars and the red top is a turtleneck crop top that I had to alter. The wig is New Look's Maxine, which I thinned out and shortened.
Comments
This was the first costume where I felt the construction was much cleaner and put together better than what I was doing before. My height and weight is actually very close to Sakura's, so I feel that this costume suits me well ;) I'm currently using this as a "solo" costume when I'm not planning on doing a group cosplay to a con.
I did deviate from the original outfit a little since I wasn't totally comfortable with how much was exposed. The shirt covers my stomach completely, and the skirt is a little longer than what Sakura actually wears.
I always see Street Fighter characters at conventions, so this is always fun to wear and pose with other cosplayers :)