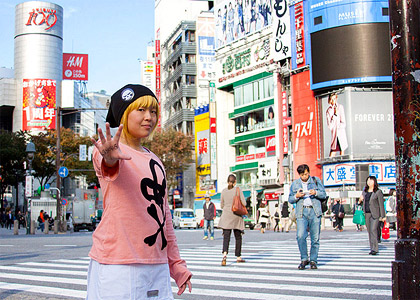 Rhyme (The World Ends With You)
Photos by: my husband |
Reblog on Tumblr!
Materials
I made her shirt with white cotton jersey and then dyed it using equal parts Tangerine and Tan Rit dye. The logo was ironed-on using Heat n' Bond, and I got the design from Pollux in this Cosplay.com post.
I used twill for the overalls and ribbed knit for the beanie. I vectored her pin design, and then used these "Design-a-Button" pins. Her shoes are black Vans, and I sewed on the yellow part with broadcloth. For the wig, I used Arda Wig's Adam in light blonde. I just had to straighten it and trim the bangs.
I didn't make a bell necklace in time for my Japan trip, but afterwards, I bought a small bell from Hobby Lobby and attached it to a leather cord. I would like to make a more accurate bell in the future.
Comments
I already cosplayed from TWEWY several years ago, and I decided to revisit it! I cosplayed as Neku before with Jack as Beat and Jessie as Shiki. Rhyme is the 4th TWEWY costume I've made.
Though her costume looks simple, I decided to sew everything myself. I really wanted the shirt and overalls to look right, and I also wanted her shirt to be in the right color. I ended up dyeing it 3 times before I got it where I wanted it to be. Rhyme is also the first female cosplay I've done where I wear a chest binder. I tried without it, and it looked weird since Rhyme is flat!
I made her costume about a month before I left for Japan and packed it with me. I was spending some time in Tokyo and really wanted to wear her costume in Shibuya where TWEWY actually takes place :) I was able to find several of the locations in the game, and it was exciting to recognize and see them in person. We took photos at a few of the most recognizable ones!
Scramble crossing
109 Building (104 in the game)
Hachiko statue
Tower Records (Towa Records in the game)