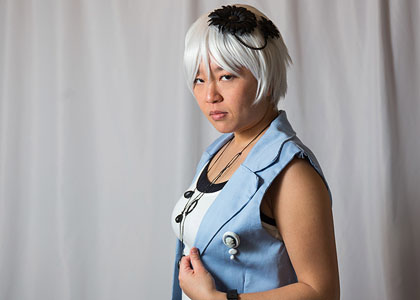 Phi (Zero Escape: Virtue's Last Reward)
Worn at: AnimeFest 2015
Variant: N/A
Grouped with: N/A
Status: Still in use
Related Posts: Phi
Materials
I made a bubble skirt for Phi's skirt and used Kona cotton. For the jacket, I used Cotton Nylon Twill, and her top are just two tank tops bought from Old Navy. I bought Steven Madden ankle high boots, and then I used suede to make leg warmers that looked like they were just part of the boot.
The wig is Arda Wig's Derek in silver. I just had to trim the bangs, and I bought black daisy flower pins for the hair accessory. I painted the middle of the flower black and added a string of black beads.
The pendant was made off of an existing pendant. I took it apart, and then created the rest of the pendant with Crayola Model Magic. The necklace charms were also made with Crayola Model Magic.
I still want to make a better looking bracelet. So far, I altered an existing watch by covering its face with vinyl and gluing on pieces made with Crayola Model Magic.
Comments
This is another one of my costumes that isn't widely recognized, but I wanted to do it because I love Phi's outfit, and I'm a big fan of the 999/VLR series. The great thing about this costume is how comfortable it is. I mean, other than the wig, it looks like normal clothing. It also gives me a costume that I can wear while doing cosplay photography!