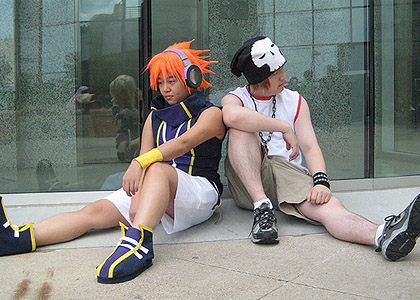 Neku (The World Ends With You)
Photos by: Jessie
Materials
Neku's shirt and shorts are mostly made with Kona cotton. My first attempt at his shoes were shoe covers. I later just made his shoes using flip flops as a base. His headphones are craftfoam glued onto a headband. I binded by using Underwork's Double Panel Compression Vest.
Beat's jersey and shorts are store bought, though red bias tape was added to the jersey. All of the charms were made with Crayloa Model Magic. Beat's pants chain was made by linking keychain rings together, and his necklace chain was originally a pants chain. His bracelet uses 2 single row pyramid stud bracelets.
Shiki's jacket was made with cotton interlock and lined with polyester interlock. Her pouch was made with twill and her boots with matte vinyl. I used a military hat as the base for her hat and covered it with fabric. Her shirt were 2 tank tops we bought, which I then cut and hemmed the edges of.
Neku's wig is New Look's Punky, Beat's wig is New Look's April, and Shiki's wig is New Look's Lucy.
Comments
My first time crossplaying, and I loved it! We got a lot of awesome compliments and ran into other TWEWY cosplayers as well. After wearing this to A-kon, I actually remade several things before AnimeFest. I redid all of the charms, completely remade Neku's shoes, and restyled Neku's wig. When we wore it a third time to A-kon again, we added Jess to the group, so I made a Shiki costume for her.
This costume was also a lot of "firsts" for me. As mentioned, it was my first time crossplaying and needing to bind. I've also never made shorts/pants before or had to make my own shoes. This was also my first time spiking a wig. Thus, making this one was pretty fun as it was just one big learning experience.