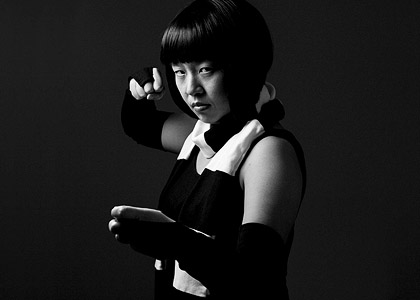 Knives Chau (Scott Pilgrim)
Worn at: Halloween 2010, 2012, 2015; Anime Matsuri 2012; AnimeFest 2012-2014
Variant: Movie version
Grouped with: Scott (Jack)
Status: Still in use
Related Posts: Knives Chau
Photos by: myself
Materials
This is my easiest costume because I didn't have to make that much. I bought the shirt and pants from Old Navy. The wig is the Poppy/Hime from Cosplay Shopping, and I just had to trim the bangs.
The arm wrappers are made with stretch cotton. The scarf was originally made with fleece, but it was too hot. I re-made it using some cotton interlock instead.
Comments
I love the Scott Pilgrim movie and series, so I really wanted a Knives costume. I guess it helps that we're both Chinese because I frequently get comments that I look like her!
This costume has been worn by both me and Jessie, so photos that have Jack (as Scott Pilgrim) in them are of Jessie and not me. (Fortunately, Jessie and I fit into the same clothes!) When Jessie used it, I put together an outfit for Jack to wear as Scott Pilgrim. Scott's shirt and wristbands are both easily bought on Amazon.
The version I've done is of Knive's movie version, but I would also like to do her graphic novel version some time :)