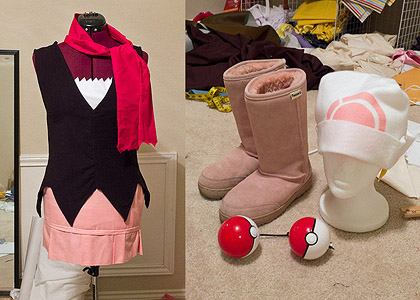 Dawn (Pokemon)
Worn at: Ikkicon 2009
Variant: Pokemon Diamond/Pearl DS
Grouped with: N/A
Status: Retired
Related Posts: None
Materials
Stretch cotton was used for the top, Kona cotton for the skirt and bag, fleece for the hat, and broadcloth for the scarf. The boots are 10″ Bearpaw boots. The wig is New Look's Angela 750.
Comments
This was originally supposed to be done as a Dawn/Lucas pair with Jack, but he couldn't make it to the con. I haven't worn this one much, though I did like how it turned out.
The bag could have used more work though. It was the last thing I did, and I didn't use any interfacing for support. I've only worn this costume once, but my friend has borrowed it for a con before.