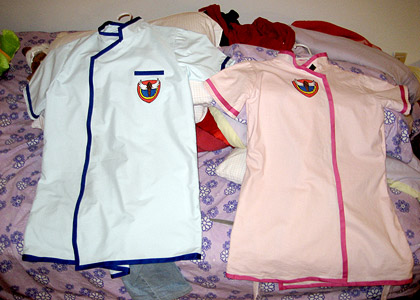 Angie (Trauma Center)
Worn at: Ikkicon 2008, AnimeFest 2008
Variant: DS version, 1st game
Grouped with: Derek (Jack)
Status: Retired
Related Posts: None
Materials
Quilter's cotton was used for Angie, and broadcloth for Derek's. They're outlined with bias tape, and the logo is hand drawn with fabric markers. The pouches are posterboard covered with Kona cotton. Derek's wig is Cosworx's Scruffy and Angie's wig is New Look's Alicia XXL.
Comments
This was a last minute decision that we put together very quickly, and they were well received at both cons. So little people do Trauma Center costumes that people were really excited to see us.
If I had more time, I would have liked to make Angie's costume more fitted. I loved the pouches though. They were so convenient for holding things like money, camera, keys, etc. Unfortunately, my wig kept tangling, so it made this costume kind of annoying to wear.